Lately, I have been inspired to hang a cuckoo clock in my home. So, when I saw Country Living's article about Lesley M.M. Blume's book, "Let's Bring Back", featured a cuckoo clock as one of the items that should make a comeback, I knew I need to find one ASAP.
While visiting my parents, I came across this old cuckoo clock they had been storing for several years. Jackpot!
I loved everything about it, except its color.
But, nothing a little paint couldn't cure!
I painted the first coat using Benjamin Moore's edgecomb gray, and had planned on leaving it all that color. It ended up looking a little drab and blended in with my wall too much.
So, to brighten it up, I used Benjamin Moore's wedgewood gray as a top coat and left the center part painted the edgecomb gray. Then to age it, I brushed on some dark brown wax. Much better!
I love having this clock so much that I would be thrilled to find another one. I like the larger all wood clocks but I am kinda thinking I need a tiny clock to hang above this one.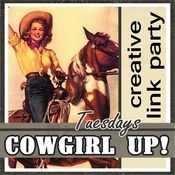 src="http://3.bp.blogspot.com/-hzrEBQ4kd_c/TpxPCiOUVJI/AAAAAAAACEI/33yhNLWAlo8/primpbutton.jpg" />src="http:>